High Energy 80s Band To Headline 7th Annual "Orlando Mixtape" Benefit Concert For Orlando Literacy & Writing Programs
On Thursday, October 3, The Downtown Orlando Foundation, Williams Company and other local sponsors will present Orlando Mixtape Vol. 7: "80s Edition" a benefit concert for Orlando's Urban Think Foundation, which houses Page 15, a children's literacy program, and Burrow Press, an independent literary publisher.
Headlining the benefit concert is the Spazmatics, a high energy 80s dance party featuring 4 geeks that know how to rock! They're not just a band but a show. Aside from performing shows around the US, the band has recently played in Barcelona and Paris this fall.
The popular annual concert has grown over the last 7 years, moving from smaller spaces to Wall St. Plaza's large outdoor venue in downtown Orlando in 2018. Prior musical genres have included British Invasion, Classic Rock, Let LOVE Rule, and Colors By Numbers which featured a setlist of songs with either colors or numbers in the titles. The 2018 event raised more than $50,000 for the Urban Think Foundation's literacy and literary arts programs.
In addition to the concert, a VIP cocktail tour sponsored by Corkcicle, Van Gogh Vodka and Kona Beer will take place throughout four Wall St. Plaza locations and feature a unique craft cocktail or specialty beer at each. VIPs will also receive a scratch-off VIP lanyard and a Page 15 branded CORKCICLE tumbler (while supplies last). The event also includes a silent auction.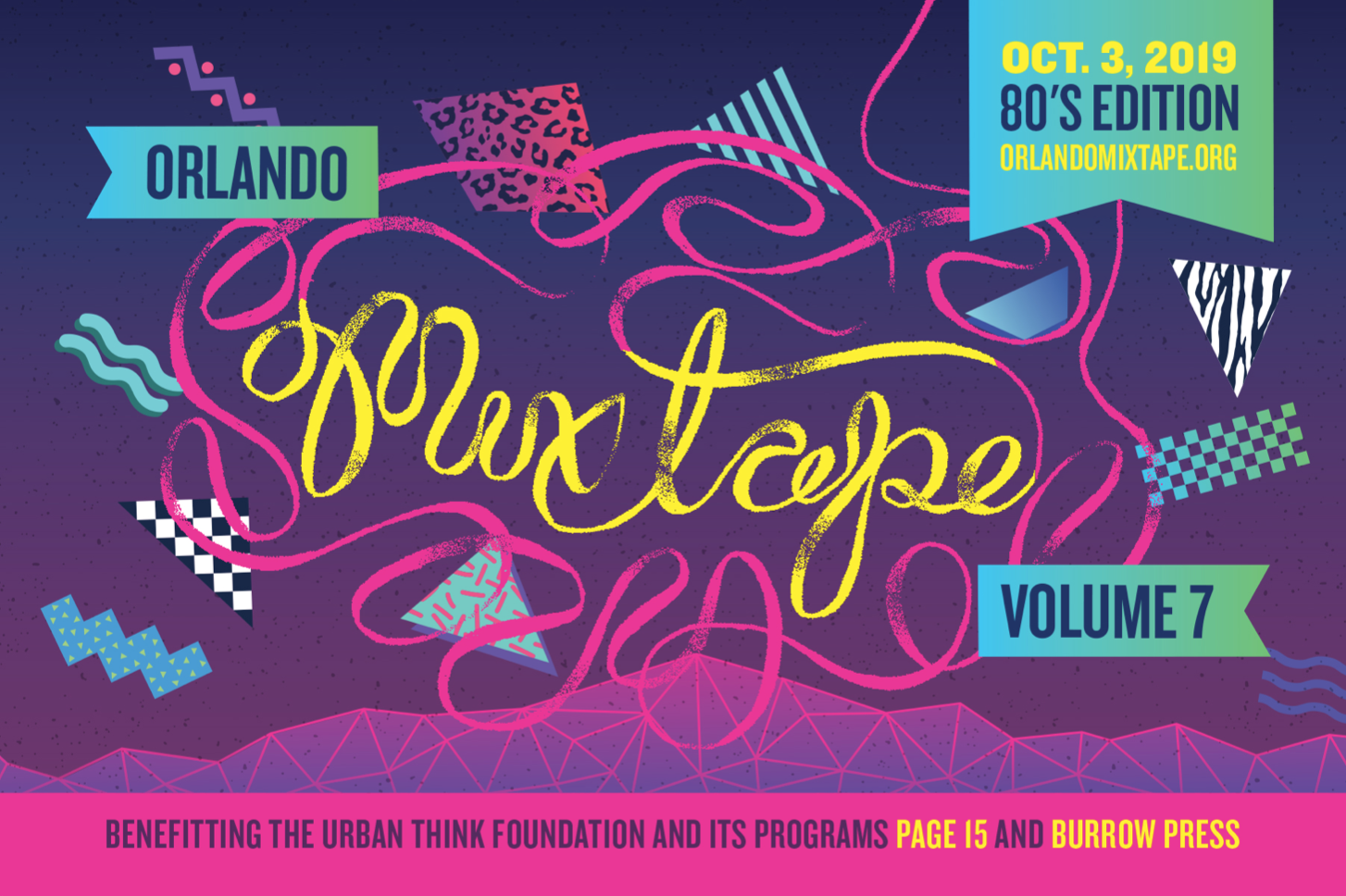 About The Urban Think Foundation
When creativity flourishes, Orlando thrives! Since 2008, The Urban Think Foundation develops and grows educational and creative literary arts programs for Orlando, including acclaimed children's literacy program Page 15, and independent literary press Burrow Press. The programs of the Urban Think Foundation are funded in part by United Arts of Central Florida; State of Florida, Division of Cultural Affairs; Heart of Florida United Way, and Walt Disney World. The Urban Think Foundation is a 501(c)3 nonprofit organization. More information at UrbanThinkFoundation.org.
***
Title Sponsorship for Orlando Mixtape Vol. 7 is provided by Williams Company and the Downtown Orlando Foundation, with additional sponsorship from Interstruct Inc., Moss Construction, Corkcickle, PCL Construction, UBS Financial Services, Axis Production & Events, Avalon Park Group, LHPS's Back in Black, Baker Hostetler, Bio-Tech Consulting Inc., Holland & Knight LLP, Lowndes, Drosdick, Doster, Kantor & Reed, P.A., LURE, Net Conversions, Pearson Doyle Mohre & Pastis LLP, Orlando Utilities Commission, Purple Rock Scissors, Resource Consulting Company, Shutts & Bowen LLP, Ustler Development and Wall St. Plaza.
See More In Events Calendar
***