ORLANDO, FL
Orlando International Fashion Week Spring 2018 features 3 major events and showcases, featuring cutting edge designers. From Friday May 18th -20th, 2018.
The week will begin with the Fierce Entertainment Network Social (FEN Social) on Friday, May 18th at the Aloft Hotel Downtown (6:00 PM – 9:00 PM). Guests will enjoy live music, a fashion showcase and networking as they interact with various people from the entertainment industries as well as entrepreneurs of all types.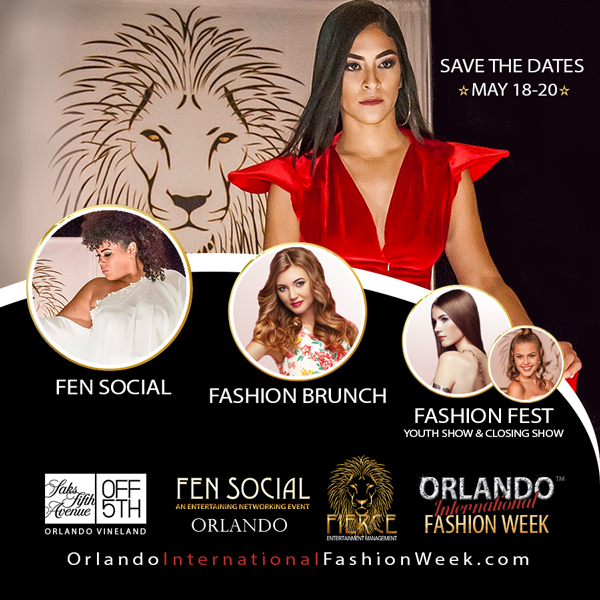 "Orlando Fashion Brunch" on Saturday May 19th, is Orlando's first fashion show / brunch combination at the beautiful Ember Restaurant downtown (11:00 AM – 3:00 PM). Guest will be treated to a Red Carpet experience followed by a delicious brunch menu, all while enjoying models featuring high-end designs walk the perimeter runway style.
The finale "Fashion Fest" will be held at the Orlando Science Center on May 20th (6:00 PM – 9:00 PM).  The festive environment will feature live music, vendors, and 2 runway shows. The first show will feature designs and models under the age of 18  and a traditional fashion show will be featured shortly afterwards.
Orlando International Fashion Week will feature designers from the Cayman Island, Bahamas, Detroit, Atlanta, South Carolina, as well as Central Florida.
This event benefits Paving The Way Foundation. Paving the Way is committed to educating and empowering businesses, governmental organizations and the community to prevent children from being trafficked here in the United States.
For more information, contact Rob or Jessica Henlon at [email protected].