25th Annual Red Hot & Boom celebrates Independence Day with live concert performances, fireworks and more
ALTAMONTE SPRINGS, FL – Now in its 25th year, Red Hot & Boom returns to Cranes Roost Park on Sunday, July 3, 2022. The City of Altamonte Springs and XL106.7 partner to host one of the largest Independence Day celebrations in Florida with a full lineup of artists and fireworks.
This legendary event attracts more than 150,000 spectators each year. Guests will enjoy family-friendly, free performances on the iconic floating stage starting at 4 p.m.*, including:
Em Beihold
Sofia Carson
JVKE (pronounced JAKE)
Leah Kate
Emmy Meli
Alyssa Raghu
The Walters
Nicky Youre
*Performances are subject to change without notice.
For the silver anniversary year, a 25-minute firework display will launch over Cranes Roost Lake highlighting the 25th annual celebration with popular and patriotic music as more than 13,000 bursts illuminate the night sky at 9:30 p.m., weather permitting, followed by the closing musical act.
"Red Hot & Boom is back with amazing live music from national and regional stars and the City's famous fireworks show, one of the largest and well-known in Florida. For 25 years, the City of Altamonte Springs has hosted our most popular event to celebrate our nation's independence. Here, friends and neighbors from across Central Florida can join together in the spirit of patriotism and kinship," said City Manager Frank Martz. "Altamonte Springs is centrally located at a regional crossroad, so we are a natural place for people to come together at Cranes Roost Park to celebrate the very best of our country!"
The event is rain or shine, admission is free and food and beverages are available for purchase. No coolers, glass, personal fireworks or pets are permitted.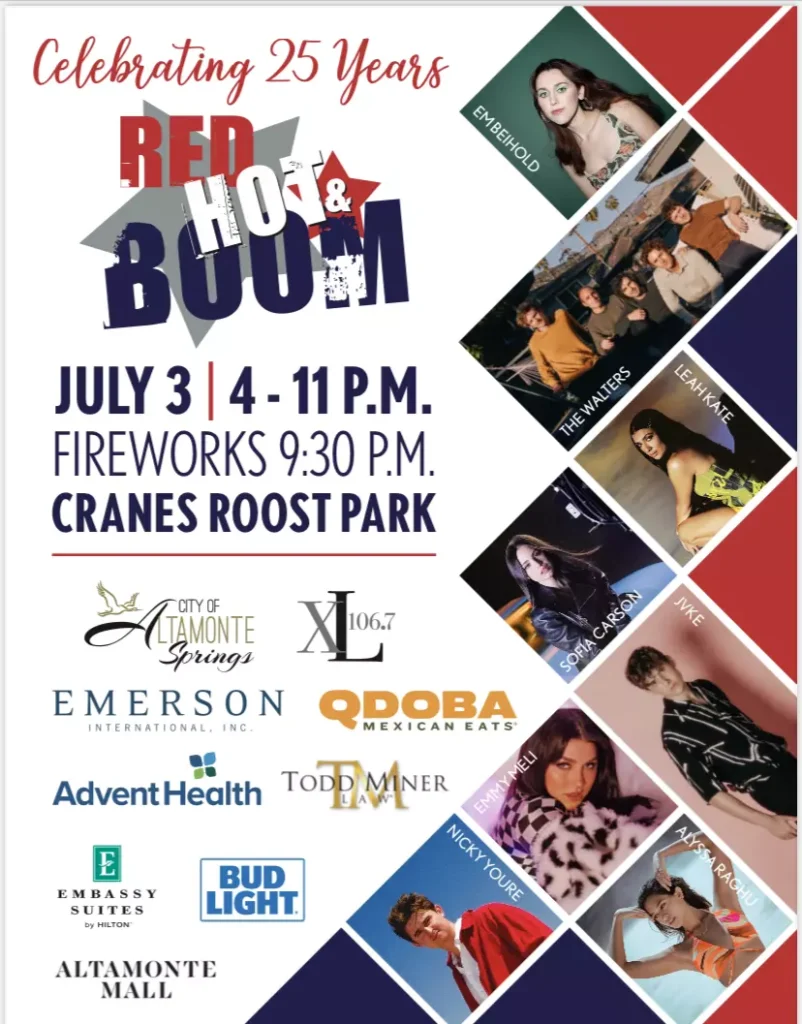 For more information, please visit www.Altamonte.org/RHB.