City's #4 ranking draws high quality applications to fill it's festival's streets!
With their fall craft fair's new honor of being ranked the #4 festival in the USA, the Mount Dora Spring Festival is expected to show off a new level of exhibitors not seen in previous years. Visit Mount Dora's 23rd annual Mount Dora Spring Festival of Arts and Crafts will fill the streets of the historic downtown walking district on Saturday March 21 and Sunday March 22, 2020. Expect to see more than 250 hand craft exhibitors and original artists set up to show and sell their unique creations and artwork.
Janet Gamache, Visit Mount Dora's event coordinator says, "Over the past 8 years we have seen a big change in the type and quality of work displayed at the event. There are some extremely talented artists setting up this year." One of the reasons the event has caught the attention of high quality exhibitors might be that the Mount Dora Fall Craft Fair brought national attention as being voted the #4 Classic/Contemporary Craft Fair in the nation 2019 by the esteemed organization, Sunshine Artists magazine. Gamache also coordinates that event.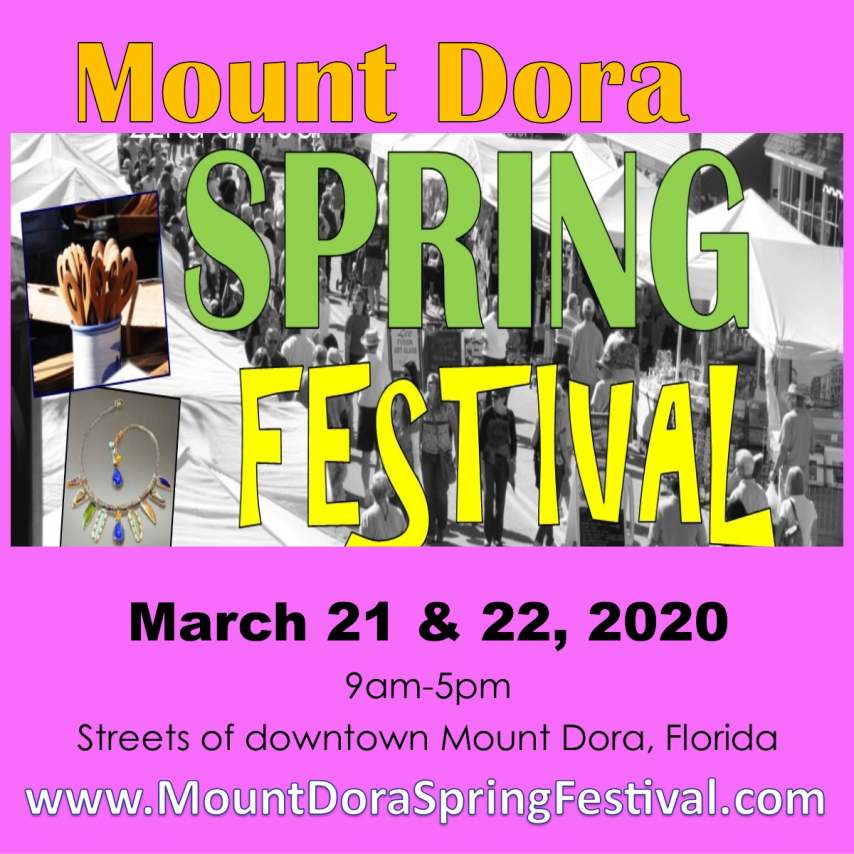 "I was thrilled to see so many talented people applied this year. This event has really turned around from the "Antique & collectibles" show which featured vendors with blue tarps scattered along the streets of downtown when I first started as a volunteer 10 years ago. It gets better and better every year."
Another unique feature of the event is the public's ability to purchase cocktails and walk among the booths and stores downtown to shop. "Mount Dora has an ordinance which allows visitors to purchase alcohol at kiosks or local establishments and walk around the event. Come out, relax, take your time enjoying the event and explore our downtown shops while you're here," says Gamache.
The Mount Dora Spring Festival is a fun, family friendly two-day, open-air event. There will be a free bounce house for kids and wine tasting in Sunset Park. Bring the family, wear comfortable shoes, and get ready to shop 'til you drop! The event runs 9am-5pm on both Saturday and Sunday and is FREE to attend.
See EVENTS CALENDAR