Delicious, grain free, no sugar brownies that will have your friends coming begging for more of the chocolatey goodness.
THESE BROWNIES ARE PACKED WITH PROTEIN PLUS ANTIOXIDANT RICH CHERRIES AND DARK CHOCOLATE, THEY ARE ABOUT TO BECOME YOUR NEW FAVORITE DESSERT.
LET'S BREAK IT DOWN, SHALL WE?
CHERRIES
Cherries, aside from their festive red coloring (hello holiday season) boast a whole lot of great nutritional benefits. Anthocyanin is what gives cherries their deep, rich color and is the flavonoid is responsible for things like reducing inflammation aiding in pain relief.  It's ability to lower blood sugar levels is exceptionally beneficial in the treatment and reduction of type 2 diabetes. So yeah, I like cherries.
TAHINI BUTTER
Tahini butter (made from hulled sesame seeds) is filled with health benefits including healthy fats and amino acids. Tahini is also a great source of essential vitamins and minerals such as vitamin E and vitamins B1, B2, B3, B5 and B15, which help to regulate blood pressure and cholesterol, balance hormones, improve skin health, and boost nutrient absorption. It's rich in minerals like phosphorus, lecithin, magnesium, potassium and iron. A good source of Methionine, tahini is shown to help detoxify the liver (cheers to that!). And watch out dairy, tahini is one of the best sources of calcium out there.
CACAO
100% cacao is actually a superfood! This superfood contains a number of essential minerals; such as potassium, copper and magnesium, flavonoids and several vitamins; including vitamin B1, B2, D, and E. Pure cacao (not to be confused with the milk chocolate, high sugar varieties) is rich in antioxidants, making it a heart healthy choice.
SO NOW THAT WE KNOW SOME OF THE NUTRITIONAL BENEFITS THAT COME ALONG WITH THESE POWERFUL INGREDIENTS, LET'S PUT THEM TO GOOD USE!
HERE'S A SIMPLE RECIPE FOR OH-SO-DELICOUS GRAIN FREE TAHINI (AND CHERRY) BROWNIES!
---
Grain Free Tahini Brownies
by Kristine Palkowetz | JoyfulGoodness.com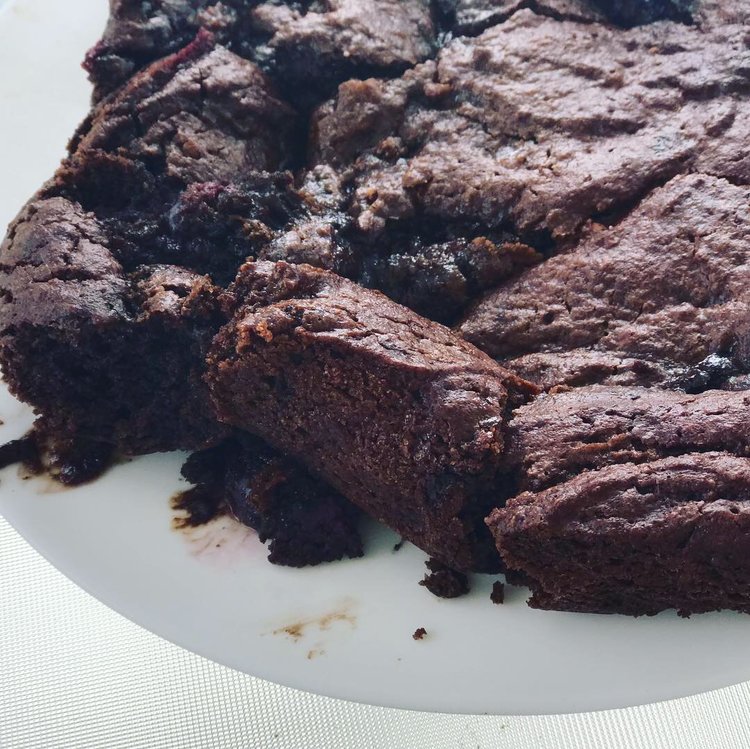 INGREDIENTS
1 cup tahini*
1 ripe plantain
1/4 cup strong brewed coffee**
1/8 teaspoon pink Himalayan salt
1/3 cup cacao powder
1 Tablespoon coconut flour
1 Tablespoon baking powder
1 /2 cup fresh or frozen dark wild cherries
1/4 lily's stevia sweetened chocolate chips
1/8 teaspoon monk fruit (optional)
More optional (but delicious) additions:
1 Tablespoon cinnamon (optional)
1 teaspoon cardamom (optional)
1/4 teaspoon nutmeg (optional)
* Use preferred nut butter – sunflower seed butter is ahhhmazing!
** Substitute maple syrup or non dairy milk
DIRECTIONS
Preheat your oven to 350°F and line an 8×8 baking pan with parchment paper.
Combine your dry ingredients in a large mixing bowl. Then puree ripe plantain, coffee and optional sweetener.
Pour contents of blender into the mixing bowl and stir until combined. Fold in cherries and chocolate chips. Bake 22-28 minutes (depending on your oven and your "brownie gooeyness" preference).
Remove from oven and allow to cool before removing from pan… but truthfully, I like to take a few extra gooey bites before the brownies are set.
Store in the refrigerator for up to a week (if they last that long), or they freeze really well.